​Let's be Clear: Harvard Longwood is a 100% Smoke-Free and Tobacco-Free Campus
As part of our continued commitment to enhancing our employee's quality of life and the environment on campus, the Harvard Longwood Campus is a 100% smoke-free (including e-cigarettes) and tobacco-free community. Please see our campus map and smoking/tobacco policy below for additional details.
The Harvard Longwood Campus offers free smoking and tobacco cessation programs. Participants can choose between a one-time hypnosis workshop and a five-session class that meets once a week. Classes are open to family members, household members, and/or significant others of employees of the Harvard Longwood community who smoke or use tobacco products to quit. These courses are offered at the Harvard Longwood Campus. To sign up, or to obtain more information, please call 1-877-327-4278.
Please consult with your physician before the program begins, as your physician is the person best qualified to evaluate your health and help you develop your own personalized plan. Your plan may include smoking and tobacco cessation medications.
Benefit Resources to Quit Smoking:
Other Resources to Quit Smoking (not affiliated with Harvard):
Map of Tobacco-Free Areas of Campus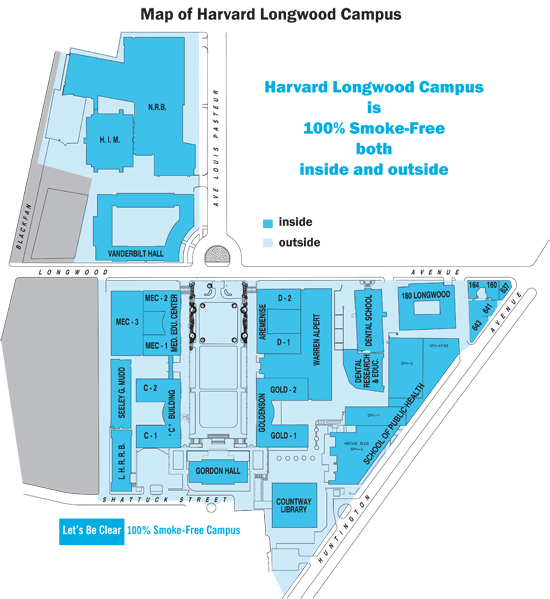 HMS/HSDM/HSPH Smoke-free and Tobacco-free Workplace Policy
Introduction
Harvard Medical School (HMS), Harvard School of Dental Medicine (HSDM) and Harvard T.H. Chan School of Public Health (HSPH) recognize that tobacco products are dangerous to one's health and that involuntary smoking is a cause of disease, including lung cancer, in healthy nonsmokers. The simple separation of smokers and nonsmokers within the same air space may reduce, but does not eliminate, the exposure of nonsmokers to environmental tobacco smoke. This applies to all smoking products, i.e., cigarettes, cigars, pipes and e-cigarettes. This policy has been developed to protect all persons on campus from smoke and tobacco products, the exposure to environmental smoke and to ensure a safe working environment.
Policy Statement
Smoking and the use of tobacco products are prohibited in all facilities and areas of the entire workplace with no exceptions. Smoking and the use of tobacco products are not permitted anywhere in any workplaces controlled, operated or occupied by HMS, HSDM or HSPH. This includes, but is not limited to, all indoor and outdoor areas and properties. Indoor areas and properties include, but are not limited to, all common work areas, elevators, hallways, University owned or leased vehicles, garages, restrooms, cafeterias or dining areas, employee lounges, conference and meeting rooms. Outdoor areas include, but are not limited to, parking lots, grounds, rooftops, plazas, courtyards, entrance ways and exit ways. This policy applies to all employees, faculty and staff, consultants, contractors and visitors.
Procedure
Please see Section 2.8C of the Harvard University Personnel Manual for compliance procedures.
Questions/Complaints
Complaints regarding the enforcement of the policy are handled through the local human resource office and in accordance with procedures established in each school or department. If you have questions or concerns, please contact your School's HR office. To report a smoker or tobacco user on the Harvard Longwood Campus, please contact your School's security office:
HMS/HSDM Security: 617-432-1379
HSPH Security: 617-432-1040
Smoking Cessation Opportunities
HMS, HSDM and HSPH encourage all employees who smoke or use tobacco products to quit. Harvard's Employee Assistance Program (EAP) is available to provide you with contact information for Smoking and Tobacco Cessation resources and self-help materials for those employees who want to quit. For further information about these services please contact Harvard's Employee Assistance Program online or call 1-877-327-4278. All Harvard University Benefit plans also offer smoking and tobacco cessation resources. Please contact your health care provider for more information. All others are encourage to identify resources through their own employers or health plans to quit smoking or using tobacco products.